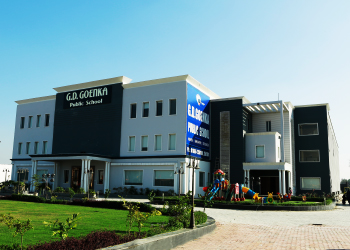 About G. D. Goenka
Sirsa
About Us Under the aegis of the illustrious G.D Goenka Group of Schools. G.D. Goenka Public School, Sirsa is governed by the 'Shree Balaji Educational Trust'. G D Goenka Public School strives to provide a challenging, safe, and socially appropriate learning environment. Our goal each day is for students to feel happy, confident, and successful. We place a high priority on traditional values and ethics. In our mission to educate the future leaders of the world, we hire exceptional teachers who are dedicated to help students achieve their personal best. About GD Goenka A school that has become a trendsetter in radical and progressive education, the quality of facilities and gamut of opportunities available. Established in 1994.G.D. Goenka Public School, Vasant Kunj is the brainchild of the G.D.Goenka Group Chairman Shri Anjani Kumar Goenka.He aimed at immortalizing the name of his mother Shrimati Gayatri Devi Goenka and envisioned to provide the students with sound education unheard of before.His innovative mission reached the pinnacle of success due to the detail of execution of plans by Smt. Renu Goenka. Her finesse and sensitivity worked in unison with Shri A.K. Goenka's visionary enterprise,to give the school its present shape and standard.
Read More
Principal Message
---
Children are curious by nature and if they are provided with appropriate opportunities, nurtured with due care and attended to with diligence they flourish and grow up to be happy, healthy and responsible human beings who can contribute positively to the society. With various new avenues of work opening up and innovation being the buzzword in today's times our children need to be creative and imaginative in their approach. Along with nurturing the inherent skills it is important to polish the acquired skills of each child. As truly said by Dr. Sarvepalli Radhakrishnan, the distinguished twentieth-century scholar of our country, " We must recall humanity to those moral roots from which both order and freedom spring". Freedom needs to be exercised with responsibility and self discipline. Education has no meaning if it can't create individuals with basic human qualities like compassion, integrity, self awareness, courage, empathy diligence and perseverance. We all know that only physically fit, emotionally balanced and mentally alert people can have meaningful and impactful life. Thus for a comprehensive development it is essential that students are exposed to a variety of learning opportunities not only within the boundaries of classrooms and school campus but even outside it. One of the most renowned educationists of today's times Sir Ken Robinson says "Education needs to be transformed. The key to this transformation is not to standardize education, but to personalize it, to build achievement on discovering the individual talents of each child, to put students in an environment where they want to learn and where they can naturally discover their true passions. " GD Goenka Sirsa is treading this path of bringing out the true potential of its students. Education here is governed by creating a platform wherein the curriculum and the teachers facilitate learning as per the requirements of the time and individual needs of the students. True to our vision and mission we work diligently to make sure that proud Goenkans carry basic values of life with them and become life long learners to lead a fruitful life in future. Dr. Poonam Monga Principal
Read More...
Chairman Message
---
GD Goenka Public School, Sirsa is emerging as a unique creative hub to channelize modern child education and schooling into versatile practice. The School offers a distinct experience through a well-designed holistic frame work of concepts, skills, attitudes and action in the co-curricular and extra co-curricular zones in an exclusive and cordial environment. Moreover, the school endeavours to explore the domain of knowledge, information and skills with an international perspective. Our School's aim is to educate the youth of the world to take their productive place as leaders in the global community by offering our pupils comprehensive education. To achieve this goal we provide quality education of global standards in a disciplined and intellectually stimulating environment. The school philosophy is based on a set of strongly held beliefs which is put into action everyday by every member of the institution. Here, we nurture the natural curiosity of our students in ways that transcend conventional subject boundaries. We equip our students with the facets of academic excellence and self-confidence so that they soar in all possibilities of tomorrow. We look forward to welcome your child to GD Goenka Public School, Sirsa and take up the challenge of making a perfect person out of him/her. Sh. Murari Lal Bansal Chairman
Read More...
JOIN G. D. GOENKA TODAY
ARE YOU READY ?
Current Highlights @
G. D. Goenka
Activities @
G. D. Goenka
School Life @ G. D. Goenka